teapigs ethical scheme


We're committed to giving back to communities that bring us our tea, we source from well-run, sustainable tea estates and we try to do the right thing when it comes to the environment. Our teas are all-natural. You can learn more about our ethical scheme and values here.
our tea supports many communities around the world
Most of the tea for our signature everyday brew comes from Gisenyi, Rwanda and we work with the Point Foundation to support orphans and vulnerable young people in the area.
We make a donation to the Point Foundation with every pack of everyday brew and english breakfast we sell. We match donations our customers make on our website, run regular fundraising efforts and a portion of our tea school ticket sales also go towards the Point Foundation. Thanks to all your contributions, we've raised over £550,000 together and we're keen to do more!
This is what we've raised so far...
We donate from every pack of everyday brew sold.
---
teapigs house
The Point Foundation runs a disability program in collaboration with the Gallagher Trust.  They manage houses that provide specialist care and accommodation for disabled children and young adults. teapigs fully fund one of the houses – teapigs house - home to 9 people with disabilities. Our donations also go towards the upkeep of other houses. Sadly, there's still a huge stigma attached to disability in Rwanda, but this is changing, and with the right support, nutrition, medical, personal and emotional care, people with disabilities have found a new way of living.
Louisa – who has severe learning difficulties is training in hairdressing.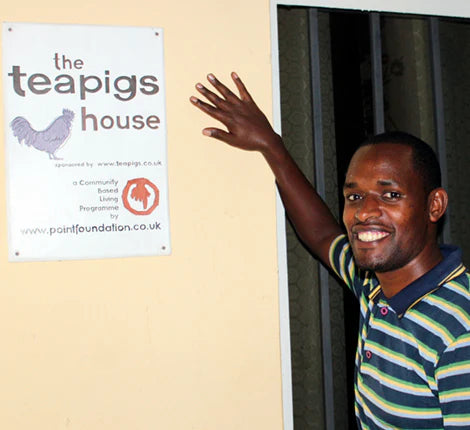 Alexis – primary carer at the teapigs house.
---
schools
Donations from teapigs go towards the hidden costs of education like uniforms, school lunches, books and transport at the UCC Children's School. Over 500 pupils attend the school and 52 of them have severe physical or learning difficulties. The children used to share one book between three but our donations have bought over 400 more books and counting.
The school now has over 400 books.
Everyone now has a uniform to wear to school.
Donations provided this set of swings!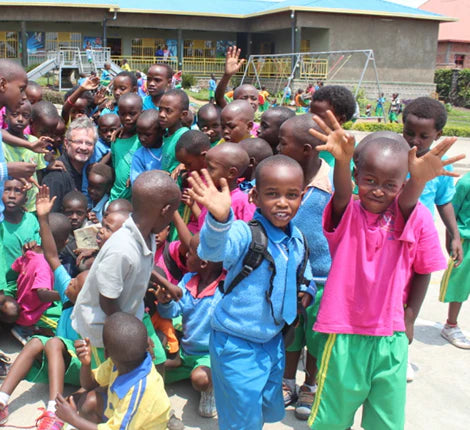 The children now have a safe playground to use.
---
university
teapigs used to donate to an orphanage that sat opposite the Pfunda tea estate called Noel Orphanage. The orphanage has now closed but we're really proud to have sponsored 28 young people from the Noel through University. Young people really are Rwanda's primary resource so ensuring they have access to education helps the development of the country as well as protecting the children's future. With only 2 left to graduate, it seems like the end of an era, but the impact is already being felt with Joyeuse, who's qualifying for a diploma in Early Education, teaching Nursery Class at the UCC.
Leon at his graduation ceremony.
Jackie graduated in 2014.